Book direct and save $$$ Book this luxurious penthouse condo, that is conveniently located to all Branson activities. Located in Thousand Hills at the Royal Links a newer unit with a elevator. Offering fine bedding and furniture, luxurious linens, beautiful decor, newer construction, wireless internet access , you can have it all at a fraction of the price of other hotels and rentals in the Branson area. Ideally suited for families and groups with King in master, queen, bunk beds in guest room and a sofa sleeper. Pack and Play and high chair also provided. This luxury condo can easily accommodate the gourmet chef with the full sized kitchen. Relax in the leather recliner and for the sports enthusiast large screen televisions. Enjoy the open floor plans of this beautiful penthouse condo! Take your place in the guest book and read what others shared about their stay in Branson. Browse the internet wirelessly and take in the views of the golf course from your private balcony. You can experience it all from the best location and at the lowest price around! With year-round peak seasons and endless Branson attractions, reservations fill months in advance, so make yours today!
Amenities
Elevator
Roku
Blu Ray
DVD Library
Outdoor Pool
Jetted Tub
Hair Dryer
Playground
Cable and or Satellite
Internet Access (Wireless)
Non Smoking
Golf
Outdoor Furniture
Patio
Linens/Towels
Kitchen Utensils
Dryer
Washer
Dishwasher
Microwave
DVD Player
Radio
Television
Air Conditioning
Room Detail
Master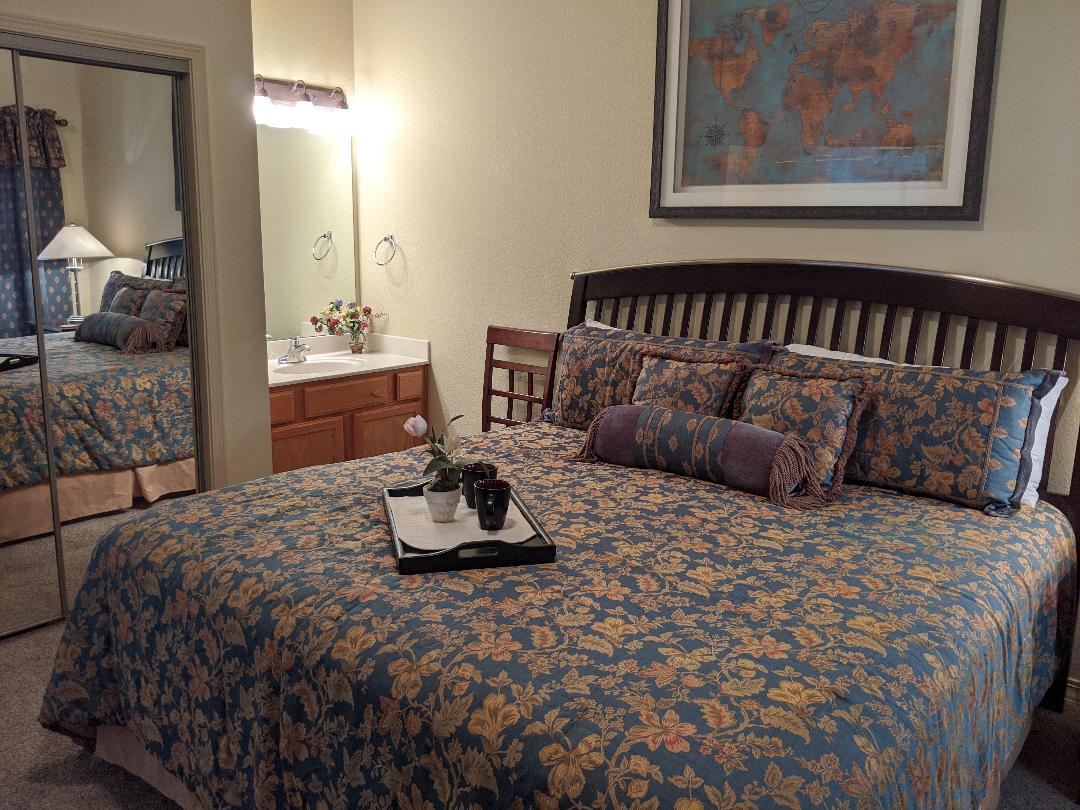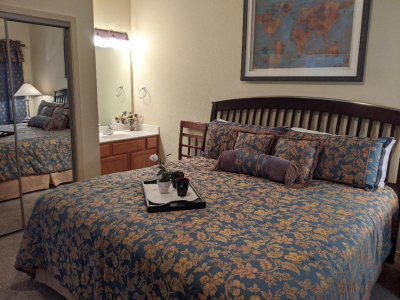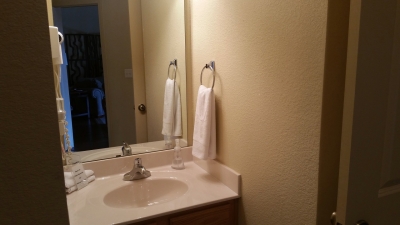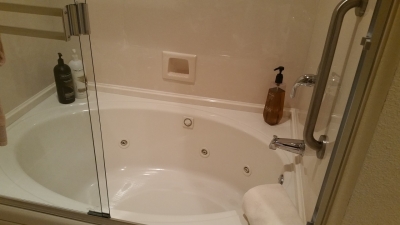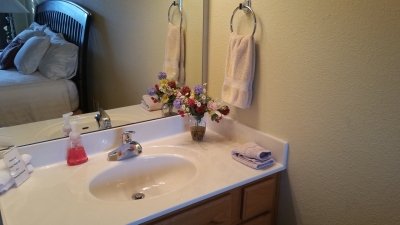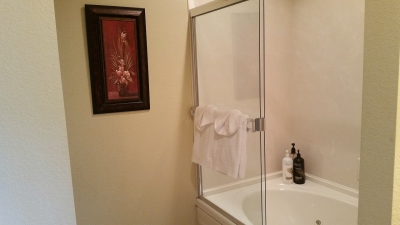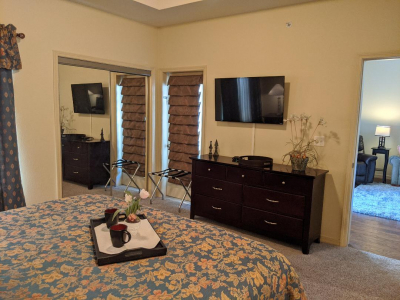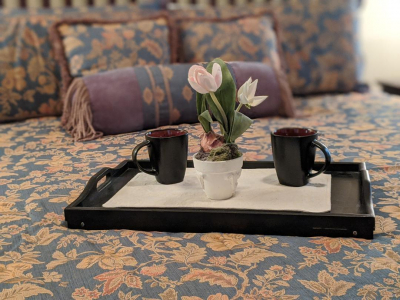 Bed Type:King
Master with king bed. Both bedrooms include luxurious down comforters and high quality bedding and linens. Both bedrooms also have large LCD HDTV screens and private bathrooms. Master Bathroom - toilet , combination tub/shower , jetted tub. The largest bathroom has a jetted tub/shower combination and the other has a large walk in shower (not wheelchair accessible, but handicap friendly.) Both include fine towels and classic decor.
Guest room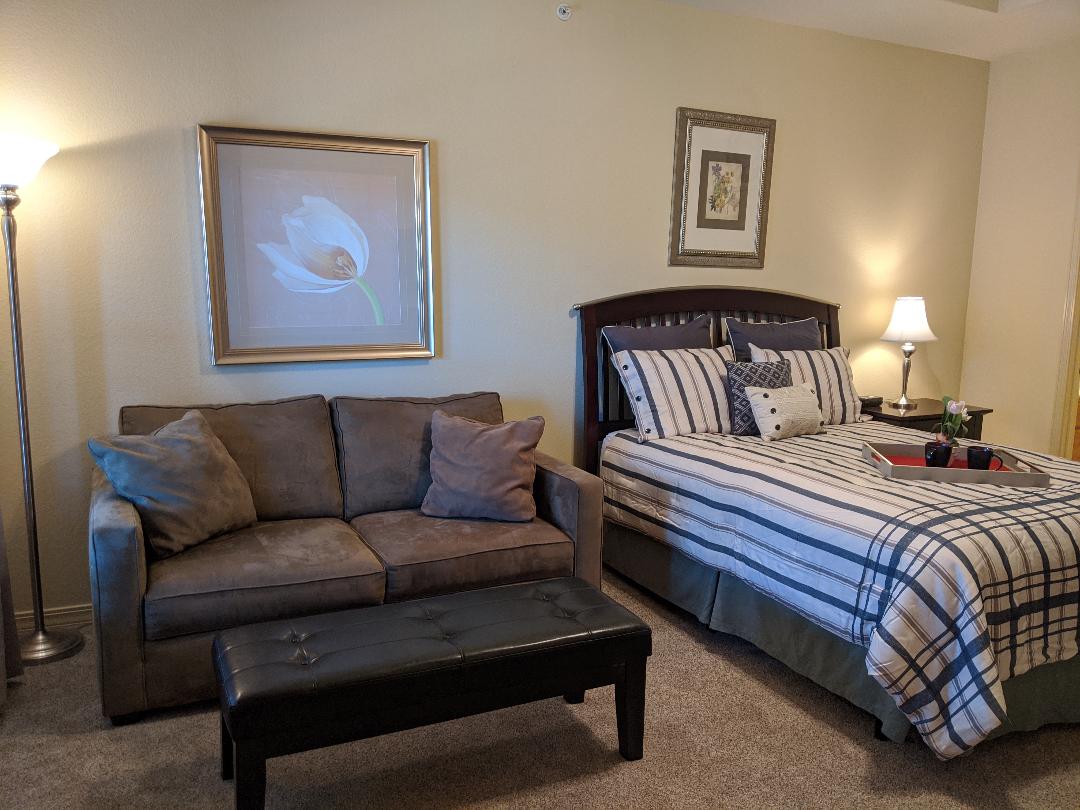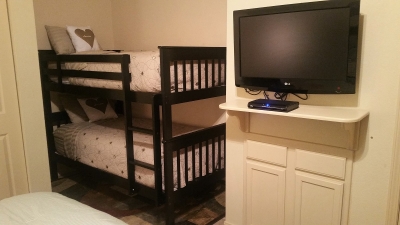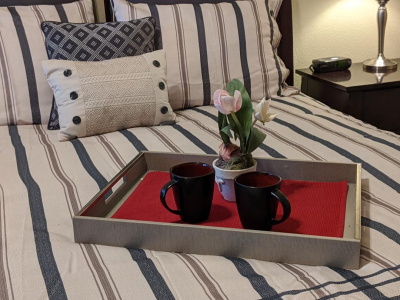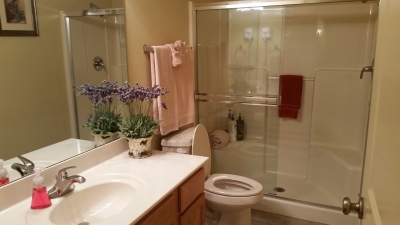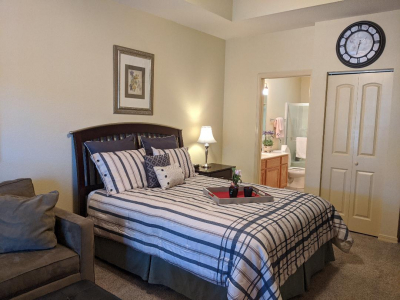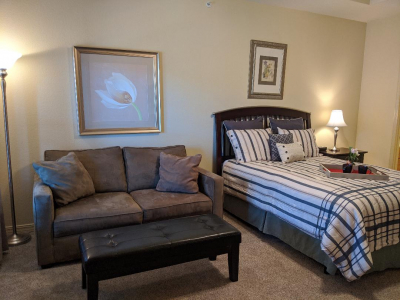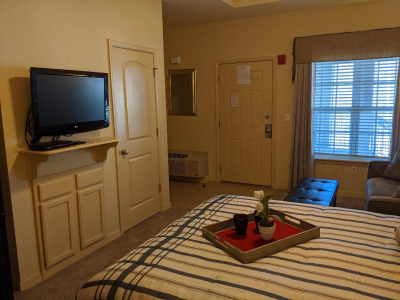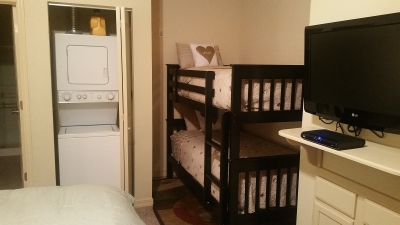 Bed Type:Queen
2nd bedroom with queen bed, bunk beds, washer and dryer and sofa. Queen studio - toilet , shower
Map
310 S. Wildwood
Reviews
Average Rating

from 19 reviews
Very well appointed!


By:Tia

VERY clean, very well appointed, quiet, spacious condo close to the strip and supermarket. We will definitely return for a stay.
Loved this condo!


By:Marla

Loved this condo for our five-day, three-generation visit to Branson. The location is super convenient to all the shows, restaurants and activities while providing a quiet getaway space. The condo is beautiful and super clean, and offered accessibility for my mom who is mobility-impaired. The elevator and step-in shower were perfect. We also enjoyed the balcony overlooking the golf course -- it was a nice spot for our morning coffee. Beds were comfortable and bathrooms were generously equipped with towels, shampoo, conditioner and shower gel. Thanks for a great stay!
Spring Break Perfection


By:Beverly

We enjoyed the condo very much. Saturday afternoon NCAA basketball watch party was great with several people watching the game with plenty of room. The two washer/dryer combos were very convenient. Playing board games from the cabinet at the condo was great with the grands. Centrally located so we did not encounter any travel issues even though Branson was busy with spring break.
Best Place in Branson


By:Jeff

We have been coming for years and this is our new favorite place and we will definitely be back. It is the first place that actually really thinks of their guest with the extra touches given. Decorating for Christmas makes us feel at home to the hot chocolate and coffee bar area with syrups etc. What a nice extra touch. To the well stocked kitchen with a crockpot and indoor type grill to nice skillets etc. We have been cooking breakfast and I had brought my instant pot so cooked a roast yesterday and served on nice dishes that they have. They have really went the extra mile for their guest.
The condo was Perfect


By:Michael

The property was very organized and spacious. It was decorated well and we didn't need for anything in the kitchen. Great condo and we would certainly stay again.
Great location


By:Amanda

This condo was located in the heart of everything. It was quick and easy to get anywhere we wanted to go. It was very clean and spacious. We had seven people in our group, and it accommodated us nicely.
Perfect condo in a great location!!!!


By:Llia

Very close to attractions, will go back!
Fantastic Place


By:HenJen

This is a fantastic place, We had an issue finding the place (our own fault) but the host was attentive and immediately available to provide guidance. The place itself was a really pleasant surprise and was absolutely huge! This was more than suitable. Plus the location was perfect (5 mins from Ballparks of America, and only a short drive to the landing). Thanks again for the use of the accommodation, I would recommend this to anyone.
Beautiful condo!!


By:Chuck

Beautiful condo on top floor. So glad there was an elevator to assist in tranporting luggage and supplies.
Ten Plus! Luxurious extras make this condo at Thousand Hills a hole in one!


By:Gale

You have a wonderful home! Great location only 2 blocks from the main street, Route 76. It is beautifully decorated and all the extra touches make it feel like a luxury spa resort. We are 3 girlfriends celebrating our 50th high school graduation. Every year we try to get together and have rented many condos. Yours without a doubt is by far the best!
Fantastic space


By:Mike

Fantastic space
Lots of extras


By:Chris

Wonderful location perfect distance from the strip, nice large rooms with lots of little extras, we will definitely be staying there again
Super Cute!


By:Jen

Super cute condo & made our stay so easy. Great place to stay when exploring Ozarks and Branson. I would stay there again! Lots to do nearby but not far drive to the more nature type things. Great place and we had great rest there after exploring Ozarks and Branson.
Very Clean


By:James

A great place to stay, quick responses from host, very clean and well appointed. We will definitely rebook this condo in the future! Very convenient location on the "yellow route" A terrific place. ! We had a great time, the grandkids had plenty of room and the bed arrangement was perfect! Thanks!!!
Wonderful family vacation


By:Amber

Beautiful place near everything. My family had a wonderful time and hosts are quick to respond! Thank you. Came for an archery tournament and had a wonderful family vacation!
Great place to stay


By:Ashley

Great place to stay, great location & very clean. Host responds very quickly. Thank you for providing such a wonderful place for us to stay during our Branson vacation. I also appreciate you being so quick to respond to me.
Beautiful and Cozy


By:Jenny

"This space was beautiful and cozy all at the same time. It was decked out for Christmas and really felt like a home away from home. The central location made it really convenient to do small activities with quick stints in the condo in between!"
Amazing


By:Tom

It was perfect for us! The home was much bigger than I expected from the pictures. It is a central area and close to pretty much everything. We had one issue with the air condition but the owner was so nice and very prompt in getting it fixed for us. Anything that we could possibly need was in the condo for us. We would stay here again for sure.
Great Value!


By:Scott

Why stay in a hotel when you can have a condo that sleeps 6 for about the same amount of money? We were very pleased with the condo. It was very clean and had everything that we needed for a very comfortable stay. We sat on the balcony and watched the Fourth of July Fireworks. I would highly recommend staying here. We were within a few minutes of every show or attraction that we wanted to see.