Adventure to the Ozarks and stay at this walk-in, end-unit 2-bedroom, 2-bathroom vacation rental condo that sleeps 6 in Branson at the beautiful Pointe Royale Resort. You'll find plenty of fun in Branson without ever taking a step off the property! The Pointe features indoor/outdoor pools, hot tubs, a championship 18-hole golf course, a fitness center, tennis courts, gear rental, and more! You are also just minutes from the main strip, where there are plenty of restauants and attractions. Wind down with a video from the video library, that has something for everyone in the family, on the flat-screen cable TV. This space is fully equipped with all the appliances necessary to create that family-favorite dish just like you do at home. Choose between a king bed in the master bedroom or a queen bed in the second bedroom, while other friends utilize the pullout bed in the living room. Tell us about your stay in the guest book and read what others shared about their stay in Branson. Amenities include a fully equipped kitchen, free WiFi, 3 flat-screen cable TVs, in-unit laundry, a private patio, and much more!
Amenities
Blu Ray
DVD Library
Outdoor Pool
Jacuzzi Brand Tub
Hair Dryer
3.2 Million Dollar Clubhouse
Dog Walking Stations
Playground
Fishing
Hiking Trails
Pro Shop
Gated Community
Office Center
Conference Room
Childrens Pool
Outdoor Pool with Lifeguard
Restaurant / Bar
Cable and or Satellite
Internet Access (Wireless)
Walk In (No Stairs)
Indoor Pool
Fitness Room
Jacuzzi
Hot Tub
Non Smoking
Tennis
Golf
Outdoor Furniture
Patio
Linens/Towels
Kitchen Utensils
Dryer
Washer
Dishwasher
Microwave
Television
Air Conditioning
Room Detail
Master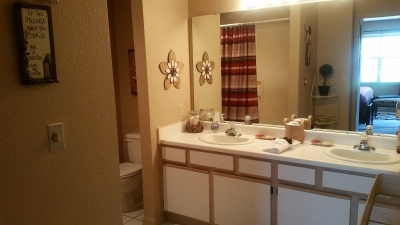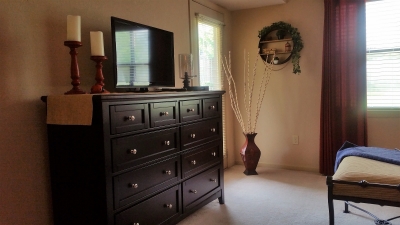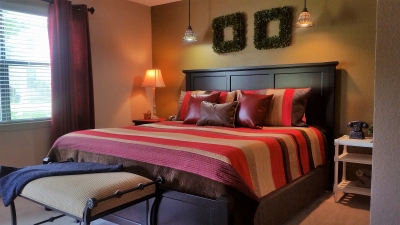 Bed Type:King
Guest Bedroom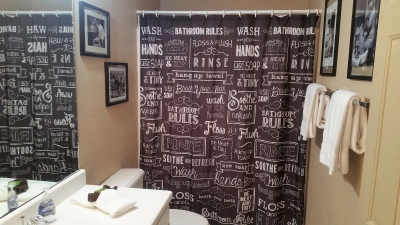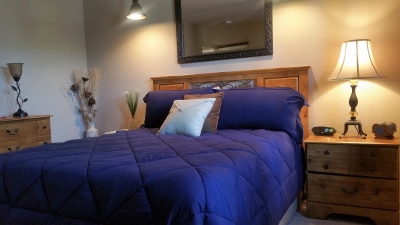 Bed Type:Queen
Map
151 Highland
Reviews
Average Rating

from 14 reviews
Awesome Condo


By:Timothy

We really enjoyed our stay in Branson. Great location close to Fall Creek Restaurant and the strip. The condo is very well decorated and cared for. Pam and Sherry does a great job! The booking process vas very easy.
Loved the condo and amenities


By:Angela

We love the amenities (including fun games & DVDs), the style and décor, the cleanliness, the ease of access due to a great location in gated community and the value! We would recommend this unit to anyone! You have a beautifully decorated condo. It felt like home. It was very clean. I never once worried about my kiddos living there as if they were at home (crawling, playing, etc.) The games and DVDs were a hit for our family and it was so nice to have detergent and dish soap there for our use! We appreciate yours no-smoking policy and fine so that the condo smells fresh and clean (not always the case with no-smoking units). The size fit our family perfectly. Thank you for everything!
Great place


By:Gary

Great place, great host. Thanks Sherry. Will definitely be back for our next visit to Branson.
Very CLEAN


By:Stephanie

The condo is very clean and nicely decorated. It was very comfortable for our stay in Branson.
Highly recommend


By:Joey

Perfectly located to all Branson offers, and the accommodations are very clean and nice. Would recommend to anyone
Very comfortable and chic decor


By:Melanie

Very easy to check in and out. Everything that we needed incl...coffee, creamer, sugars...body wash, big fluffy towels and comfortable beds!
Amazing!


By:Christine

This condo is like a home away from home! Has everything you need with a fully stocked kitchen utensils and a washer/dryer/dishwasher. Very clean, nicely decorated, walking distance from the pool and in a great location near a ton of Branson attractions!
5 STARS


By:5 stars

THE CONDO IS VERY CLOSE TO EVERYTHING.....IT IS VERY SPACIOUS AND HAS A HOMEY FEEL....IT IS IN A GREAT AND QUIET AREA...LOVE THE FACT THAT IT HAD A FULL KITCHEN.....WASHER AND DRYER....CAN NOT WAIT TO RETURN
Gorgeous!


By:Roxanne

The place is in the most gorgeous Point Royale! We loved walking around the neighborhood. All the guests and owners were so friendly and welcoming. The property included all the great amenities we needed. Perfect for our family for the week.
Beautiful property!


By:Kelly

Very nice, clean, beautiful property! Thank you so much we had a great stay!
Wonderful Space


By:Alexis

The space was wonderful! Very neat, clean, and tidy. Washer and dryer was nice to have, and plenty of space for the family. Sherry is an AMAZING host, gave us travel tips, and quick responses to messages. Highly recommend!!
Our favorite place to stay


By:Marcie

Our family loves to stay here ! It's a beautiful condo with all the comforts of home . The location is perfect !!! It's close to all the the excitement on 76 and close to SDC! This is a great place to make lasting memories with your family !
Beautiful Condo


By:Familyof4

Our family loved our stay here! The condo is beautifully decorated, cozy yet spacious, and comfortable. The fully stocked kitchen was great for preparing breakfast to eat together around the table (it was also nice for reheating leftovers from one of Bransons great restaurants!) The beds are very comfortable. The pool is very nice and the kids enjoyed the play ground, too. The owners clearly put a lot of thought into making your stay comfortable and enjoyable. The atmosphere at Pointe Royale is peaceful, pretty and family friendly. We will be back
Lovely Condo


By:Branson Lover

Love this unit. Nicely decorated and feels like home. Very comfortable to relax in when you are tired from an active day. You can tell owner has put thought into unit to accommodate others. Walk in unit was nice. Will stay here again. Loved the welcome gift.